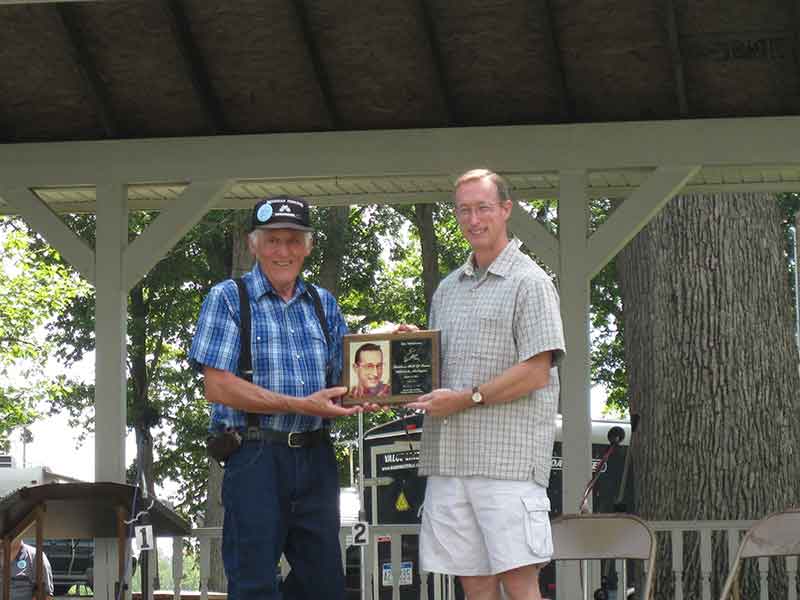 Michigan Fiddlers Association president, Richard Wild, presenting Jim's plaque
Jim McKinney was inducted into the Michigan Fiddlers Association Fiddlers Hall of Fame at the 24th Annual North Central Regional Fiddlers Convention in Hillsdale, Michigan on August 10, 2013. He is the 30th fiddler to receive that honor since it was first bestowed in 1997.

Jeff Felmlee, Master of Ceremonies for the Hall of Fame induction, said, "The Executive Board [of the Michigan Fiddlers Association] asks for nominations and we look at how the person got started and what they have done to promote fiddling in Michigan."

Jim started playing guitar in 1978 and fiddle in 1987. He met Loretta Vickerman in 1990 and in 1992 they formed The Golden Griffon Stringtet to play old-time music for square and contra dances and Civil War Balls.

Jim has been presenting fiddle workshops since 1997, teaching tunes, ornamentation, harmony and music theory at the Original Dulcimer Players Club Funfest, the Midland Folk Music Festival and the North Central Regional Fiddlers Convention. He taught violin and guitar at Eastern Michigan University's Community Music Academy and has been teaching old-time dancing since 2007.

In 2012, Jim placed third in the Sauder Village Fiddle Contest. In 2011, he placed third in the Green Parrot Old-Time Fiddlers Contest. In 2008, he placed third in the Manchester Riverfolk Music & Arts Festival Fiddle Contest and received a superior rating in the Advanced Fiddling Competition of the National Federation of Music Clubs. In 2005, Jim won the Hetzler's Fakebook Fiddle Contest. He has received two seconds, three thirds, one fourth and two sixths in the Michigan State Championship Old-Time Fiddlers Contest from 1995 to 2005. He has been serving as Director of the contest since 2006. He was named the 2000 Aurora Borealis Association Traditional Instrumentalist of the Year for fiddle.

In 2001, Jim and Judy Raber co-published Come Dance With Me, a biography and tune book of old-time Michigan fiddler Les Raber, and in 2007, they produced Come Dance With Me...Again!, a CD of 43 tunes from Les's unique repertoire. Jim has also transcribed and published repertoire books for old-time Michigan fiddlers Stewart Carmichael and Clifford Sparks.

On receiving the award, Jim said, "I'm very honored to have been chosen but this isn't the kind of thing that a person earns all by himself. Everyone who has ever taken a workshop from me or shared a tune with me or sent me a recording or photo or story about an old-time fiddler deserves a part of this."

After the induction ceremony, Jim's family, friends from all over the state and fellow fiddlers enjoyed a dessert reception and some old-time Michigan square dancing and then shared fiddle tunes into the wee hours.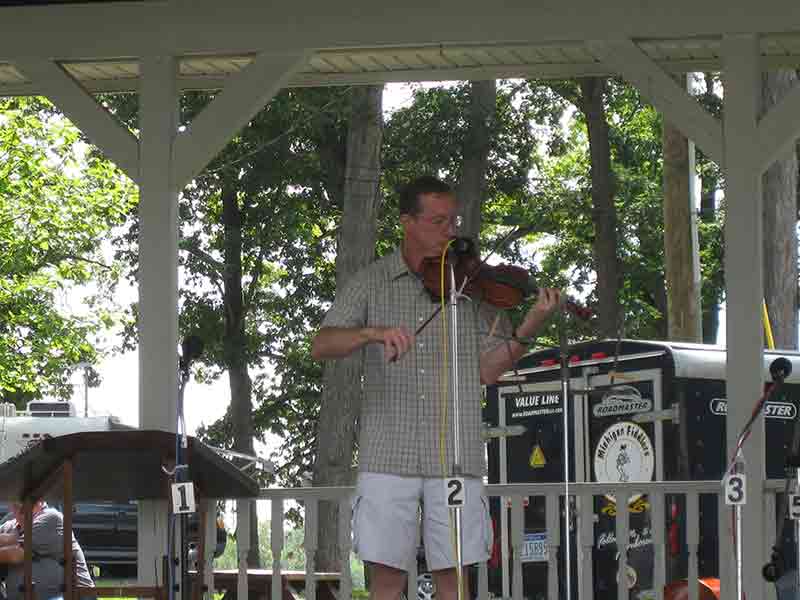 Jim performing at the induction ceremony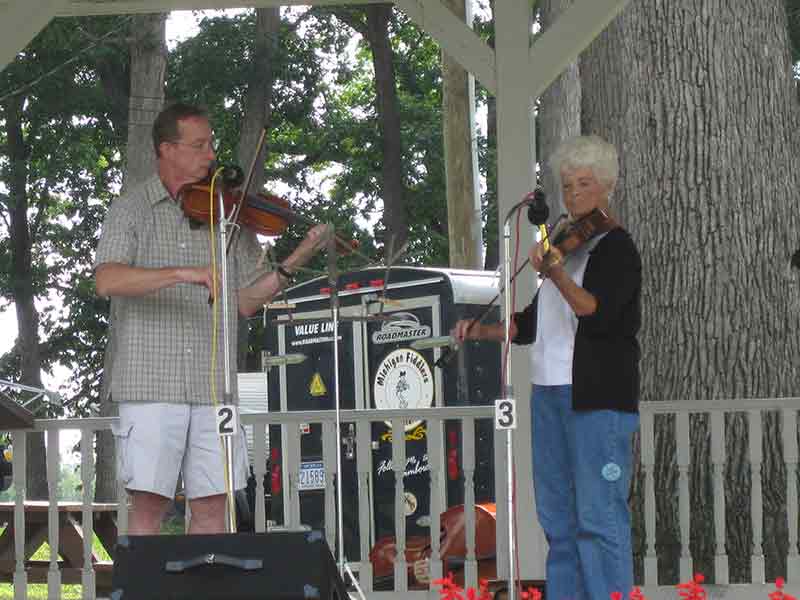 Jim & Judy play some Les Raber tunes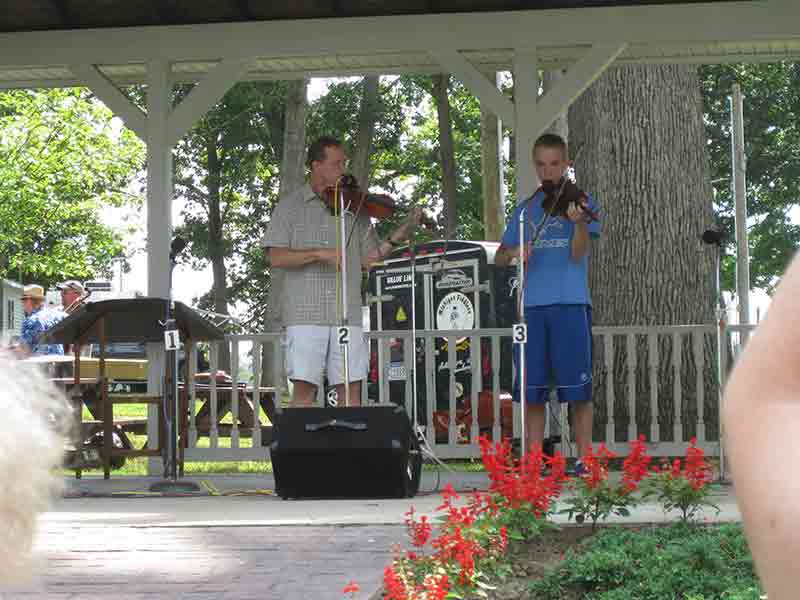 Jim & Tommy
Jim, Renzo & Loretta play some Golden Griffon Stringtet favorites