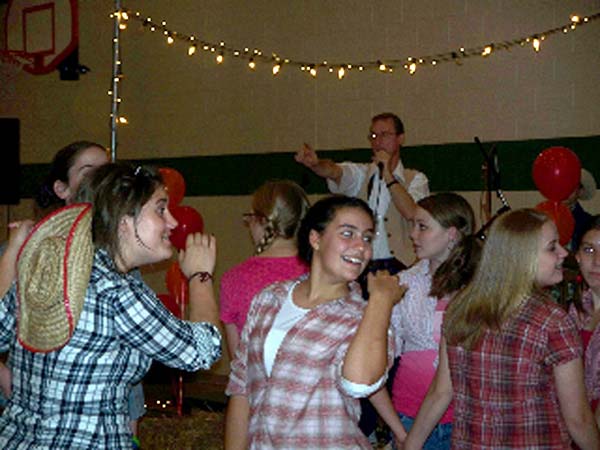 Old-time dancing is fun, lively, energetic and easy!
Michigan square dance callers Jim & Loretta McKinney, have been dancing since 1988, playing for dances since 1992 and teaching old-time dancing since 2007. They love introducing square dances and other old-time dancing to people who have never tried it. Their friendly, easy-going style and clear explanations get everybody moving quickly and ensure everyone has a lot of fun. No previous dance experience is necessary.

House parties, birthday parties, anniversaries, family reunions, graduations, wedding receptions, barn dances, school groups, school programs, scout groups, church groups, fund-raisers and historic events are all great places to include old-time dancing.
Reviews of our square dances.
Frequently Asked Questions
Our group has never done this before. Is this something we can do?
We specialize in teaching fun, easy, old-time dances to people with little or no dance experience. Our program consists of easy, basic figures in a variety of square, circle and line formations. There is no fancy footwork. All dances use a normal, walking gait. No previous dance experience is necessary.

Does it take a lot of time to learn?
All of our dances are taught in 3-5 minutes then the music starts and the fun begins.

How long do we dance?
Our dances are flexible; customized to meet the needs of your group and the events on your agenda. Anyone can take a break at any time and anyone can join a dance at any point in the program. Most people who are new to old-time dancing are ready for a short break or a drink after two or three dances. Our 3-hour dance program can be shortened or divided into as many segments as necessary to accommodate the needs of your group and your schedule.

How many people does my group need for a dance?
The minimum number of people for a dance is eight. There is no maximum limit.

How much room do we need?
We've led dances on driveways and in dining rooms; on grass and on carpet; in garages, gymnasiums, barns and ballrooms. A typical square is 8' x 8' so a 30' x 20' space will accommodate six squares or 48 dancers. A typical longways set like the Virginia Reel is 6' x 15' so the same 30' x 20' space will accommodate four sets or 48 dancers. We can adapt the dancing to the space you have available. A clear open space with no posts is preferred.

Do we need equal numbers of men and women or boys and girls?
Old-time dancing is a fun activity and works very well for mixed groups, but that's not a requirement. Most of our dance directions are addressed to partners and neighbors so everyone can dance with whomever they are most comfortable. This works especially well with youth groups that may feel awkward dancing with members of the opposite sex.

Is there an age limit?
There is no age limit but there is a developmental requirement. Dancers who can stand on their own feet, listen, follow directions, walk in time to music and know the difference between left and right will have fun and be successful no matter what their age.

What should I do to prepare for a dance?
► Tell your guests to wear or bring comfortable, low-heeled, soft-soled shoes in which to dance.
► Provide plenty of cold water for dancers to drink.
► Sweep the "dance floor" beforehand to remove irritants such as dust and larger elements that might make the dance floor uneven or unstable. We frequently lead dances on lawns but we're careful to search the grass for twigs, rocks and other irregularities before we start.
► Resist the temptation to decorate the dance floor area with bales of hay or straw. Loose straw is a slipping hazard.

What do you need in order to teach and call for a dance?
We bring all the tables, cables, cords and equipment we need in order to be heard and play the music we use for dances. We need room at the edge of the dance floor to set up our six foot table; preferably away from doorways, aisles and other high-traffic areas. We need access to a standard, 110 volt, household electrical outlet.

Do you use a live band or recorded music?
Yes! Both options are available. The lively music of The Golden Griffon Stringtet is an exciting enhancement to any event, while our large collection of traditional, fully-licensed, recordings gives us access to the best dance music from the best musicians in the nation. Contact us to discuss the choice that best suits your needs.

What is your dance party philosophy?
We want to make sure YOUR event is a success. We want to make sure everyone who dances has fun. We don't care if people dance "perfectly" as long as they are enjoying themselves.